MW Bar Ranch Mountain Lodge Amenities: Fly Fishing or Hiking the Valle Vidal
MW Bar Ranch B&B in Amalia, NM is situated on a beautiful property. Tall Ponderosa pines, Aspens, and Narrow Leaf Cottonwoods are found throughout. The ranch is in a narrow valley with mountains to the north and south and the Rio Costilla bisecting the valley. Bring your fly rod or hiking shoes and also bring your camera, sketch book, or paints to document the fun you'll have.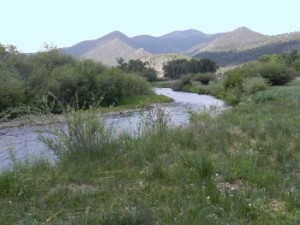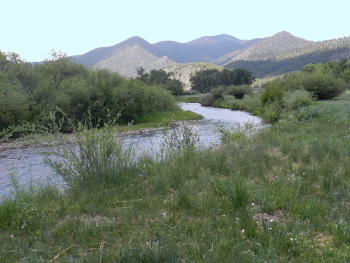 The Rio Costilla flows through the property. Guests have free access to these private waters for catch and release fly fishing. The stream has a good combination of open waters and brush lined banks. Our part of the stream generally fishes very well.
There are 65 acres which guests are free to explore. Elk, deer, coyotes, bears, foxes, bobcats, and even cougars can be seen here. Birds are abundant. Hummingbirds are here by the hundreds in mid summer. Hummingbirds start arriving in late April and some remain until late September.
There is an outdoor fire pit for cool evenings, a charcoal grill, seating areas, and flower gardens. Night skies are very dark and excellent for viewing the constellations with a telescope.
Indoors you'll find a well stocked library with books on the local area, a variety of magazines, wood stoves for cold days, and comfortable seating areas. Breakfast is served in the dining room.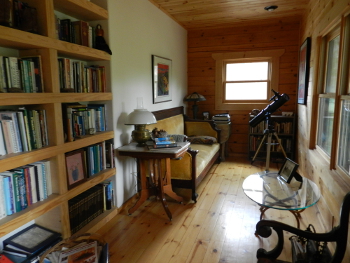 Bathrooms are stocked with large towels, hair dryers, and good quality bath products. Bedrooms are nicely sized.
Guests may watch TV in the great room, read, or play board games.
The owners are very willing to help plan outings, suggest hiking trails, set up guide services for fly fishing, or help with any other need that may arise.
Rates
Rates for rooms in the B&B start at $120 per night including a full gourmet breakfast. A fixed menu dinner, available only by prior arrangement, costs an added $25 per person. Special dietary requirements can be accommodated.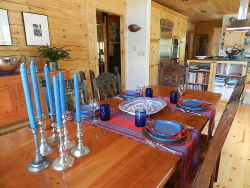 The owners are very knowledgeable of the area. They will be happy to suggest activities, recommend hiking trails, share tales of favorite spots to fly fish, or tell you where you might see wildlife.
Trip Advisor Ranked MW Bar Ranch #1 Specialty lodging in Amalia!